Individuals and families around the world are celebrating Father's Day. And it's a great time to learn how Misa Family Robot can make you a more loving and involved father.
Think about the last time you wished you could surprise your little ones. Or how you tried to help around the house so your spouse could have some free time.
With Misa Family Robot, you can be a more present father. More aware of what makes your family happy. And more involved in their lives.
Read this article to learn more about ways you can enjoy this interactive robot as a father.
Leveraging Misa Family Robot as You Celebrate Father's Day
It's that one time of the year when we appreciate fathers for all they do to care, protect, love, and provide for their kids, wives, and families.
We all know how Mother's Day comes up more than once in a year. And it's a beautiful time to show mothers how treasured they are.
But fathers aren't left behind. From working long hours at work to having fun together.
And with COVID-19 and the turn of events around the world, many fathers have become their kids' teachers. If this is you, you're doing a great job. And Misa Family Robot can help you achieve even more.
I. Always Remember Special Family Events
Yes, working from home can have you busy every other hour. But with this next-generation social robot, you never have to forget birthdays, family hangouts, or anniversaries.
Also, Misa's smart and interactive sensors enable you to say "Hey Misa, remind me of Carl's birthday tomorrow!" So setting alarms become a breeze, and being a more involved father becomes a dream come true for you.
II. Interact Better with Your Family
Send messages, make audio calls, and share videos with your loved ones. Thanks to Misa Robot, the interactive family robot.
With the Natural Language Understanding capabilities, Misa can listen and talk. And move around, too. So, you could be in one room and send a message through Misa to your spouse or kids in another room.
These little surprises are what delight those we love. Who says you always have to do something huge to show your loved ones you care?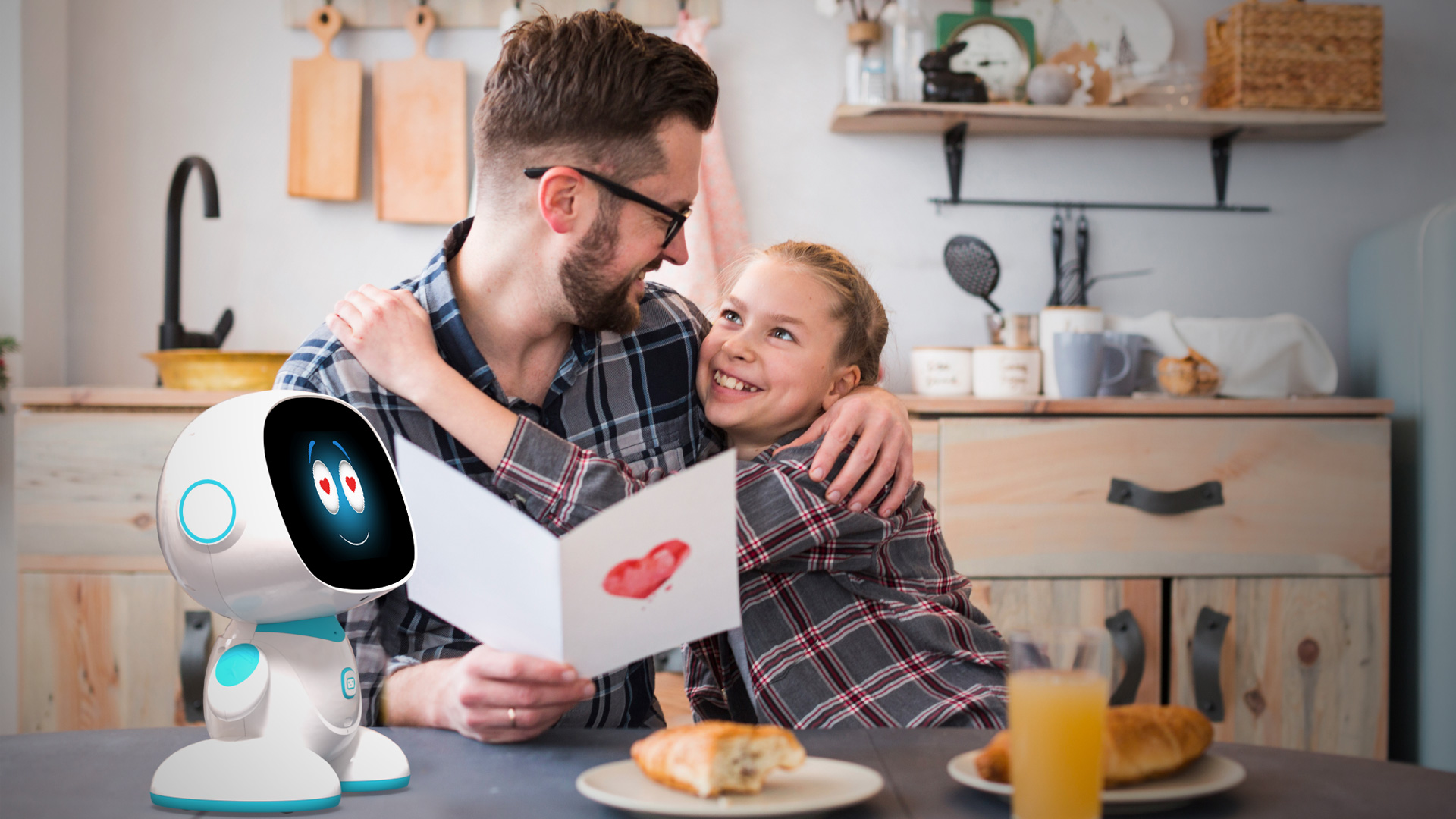 III. Lead Healthier Lives with Misa Family Robot
Misa Family Robot equally encourages fathers and parents in general to live healthier lives.
With the series of updates on fitness activities and practices, you can continually engage in exercises that keep you healthy.
Simply say, "Hey Misa, share fitness workout exercises." And work out without using your phone or other mobile gadgets.
IV. Hone Your Cooking Skills
Would you like to surprise your spouse and prepare nice meals occasionally?
Misa can make this happen. This friendly robot displays new and healthy recipes. Which means you don't have to watch a YouTube video on your phone before you can surprise your spouse this way.
You only have to speak to Misa, and you'll get a range of recipes. The best part is that you can watch and learn as you cook. And still, move around in the kitchen. Trust Misa to move with you.
V. Have Fun with Your Kids
Fathers who play with their kids make loving dads. And Misa Robot can help you create time to play with your kids.
What's even more fun is that with the Misa Karaoke Microphone, you can sing songs and dance together. Misa sure loves to have fun. And what child doesn't?
Allow yourself to relax and have fun with your kids and Misa. Celebrate Father's Day making sweet memories with your spouse and kids.
The Bottom Line
Nothing could be more amazing than when fathers create time to have fun with their loved ones.
With Misa Family Robot, you can be a more present father, spending time with your spouse and kids.
If you'll just pre-order your family's Misa on Indiegogo now, you'd be well on your way to having a fabulous Father's Day celebration.